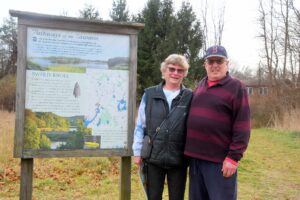 Thank you to Bob and Barbara Hunt for their years of water quality testing. They are long-time valued volunteers for TRWA's Water Quality Monitoring Program and are retiring from testing as of this spring.
Steve Silva, program coordinator, says, "the Hunts were dedicated and reliable water quality monitoring volunteers long before I started with the program. Thanks to them, we have a long and complete data set on water quality conditions in the lower Taunton River main stem and the lower Three Mile River, both crucial areas. This data has been important to our efforts to lobby for treatment plant and stormwater management upgrades to improve water quality in the Taunton River."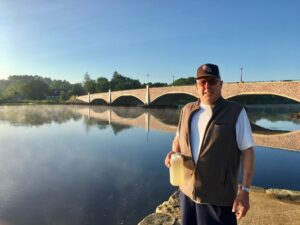 Bob is shown here at one of the 3 sites he and his wife Barbara sampled monthly from April -October for many years.
The Hunts sampled at the Berkley Bridge (TNT-01), Plain St. (TNT-02, near Riverfront Park at the Weirs), and Three Mile River 01 (TMR-01, the most downstream and tidal site on the Three Mile River). The locations they sampled provided important data to access the lower Taunton River and upper Mount Hope Bay Estuary.
To understand the importance of their work, go to:
New volunteers attend a training seminar before the testing season begins and, as often as possible, are paired with experienced teams when they begin.
The Hunts and our volunteers are at the forefront of learning about the conditions of our Watershed's water quality.