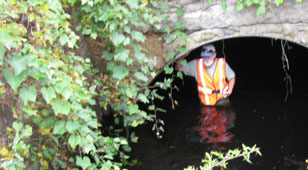 TRWA Blog
Teen Catches State Record Bowfin in Taunton River

-

Sixteen-year-old Tauri Adamczyk of Taunton caught a 7 pound, 14 ounce, 26.5 inches long Bowfin on July 23 in the Taunton River claiming the state record for this species. This species was added to MassWildlife's state record keeping program which covers 23 fish species two years ago. See photo on MassWildlife website

July Sampling Results In

-

The July sampling results are in and available at the Water Quality Monitoring Tab above (click on the sample bottles picture on the monitoring program home page). While not as bad as last year's dry year we are seeing nitrate values 2 to 3 times the water quality target value of 0.4 mg/l. This underscores the need for wastewater treatment plants to continue with their programs to upgrade the plants to remove nitrogen and for municipalities, state agencies, and the public to identify ways to control nonpoint (a.k.a. non-wastewater treatment plant) sources of nitrogen.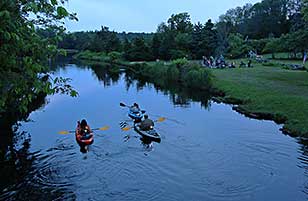 Watershed News
Stream Continuity Assessment Available

-

In June 2017, Mass Audubon and the Taunton River Watershed Alliance released Stream Continuity Assessment in the Taunton Watershed a report detailing the findings of more than 500 stream crossing assessments in the Taunton River watershed. The River and Stream Continuity Project was a joint effort of the University of Massachusetts, the Massachusetts Division of Ecological Restoration, the Nature Conservancy and American Rivers. The Project developed a system to assess stream crossings and determine the extent to which each one created a barrier to aquatic passage and natural water flow. The database generated an "Aquatic Score" that represented the degree … Continue reading →

Angler Education Day

-

On July 16th, TRWA, the Mass Wildlife Angler Education Program, and the MA Department of Conservation and Recreation teamed up to create a day of local cultural and natural history. Dozens of Dighton Rock State Park visitors learned about Taunton River biodiversity, explored the Dighton Rock Museum, and got a fishing lesson (and loaner tackle if needed) while enjoying a beautiful day along the river.
Tides in Fall River:
To get the time of HIGH tide in Taunton add approximately 45 minutes to the high tide times listed below. For the time of LOW tide in Taunton add 2 hours and 15 minutes to the time of low tide listed below.
Our Mission

...to protect and restore the watershed's natural resources for current and future generations.