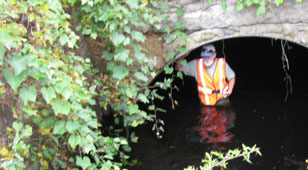 TRWA Blog
October Nutrient and Bacteria Data

-

The nitrate, total phosphorus and fecal coliform results for October have been added to the website's 2017 monitoring results tracking table.

The nitrate and TP results are the results we watch most closely because these nutrients promote algae and undesirable weed growth adversely affecting water quality and the diversity of aquatic life that can thrive within our watershed. Better water quality equals more aquatic and wildlife diversity and more recreation opportunity on and along our waterways. In other words these are the water quality metrics we want to see improve by better wastewater treatment, improved stormwater management, better fertilizer … Continue reading →

MASS RIVERS, TRWA AND EIGHT OTHER GROUPS SUE EPA OVER STORMWATER DELAY

-

On September 25th The Massachusetts Rivers Alliance, Taunton River Watershed Alliance (TRWA), and eight other watershed groups from across the state filed suit in Boston's federal district court asking the court to vacate EPA's one-year delay in implementing the state's new stormwater permit. Joining Mass Rivers and TRWA were watershed groups representing the Connecticut; Mystic; Merrimack; Ipswich; North and South; Jones; Sudbury, Assabet, and Concord; and Neponset Rivers.

"Stormwater is the state's number one pollution problem," said Mass Rivers Executive Director Julia Blatt, "and this permit is a product of extensive public input as well as eight long years of … Continue reading →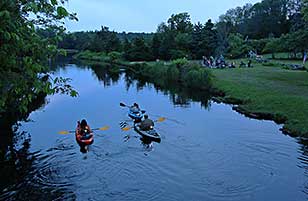 Watershed News
Fun Fall Kayak/Canoe Trip

-

The Fall TRWA kayak and canoe trip was a great day on the river for twenty TRWA members and friends. Everyone who participated had a great time and expressed an interest in our trips next year. We typically sponsor an overnight trip the second Saturday and Sunday, in June the weekend before Father's Day (participants can do either or both days, camping out is optional). We also do a Fall trip usually the Sunday after Columbus Day. Mark your calendars for next year and keep an eye out for our confirmatory announcements!

Continue reading →

Fall Foliage Canoe/Kayak Trip

-

Sunday, October 15, 2017

You're invited to join the Taunton River Watershed Alliance (TRWA) for a canoe/kayak trip on the Taunton River to enjoy the peak fall foliage. The date is Sunday, October 15. The trip will begin at 10 a.m. at the South Street East river crossing on the Raynham/East Taunton line (check-in at 9:30). It will end approximately four hours later (2 p.m.) at Weir Riverfront Park on East Water Street in Taunton. Click here for registration information.
Tides in Fall River:
To get the time of HIGH tide in Taunton add approximately 45 minutes to the high tide times listed below. For the time of LOW tide in Taunton add 2 hours and 15 minutes to the time of low tide listed below.
Our Mission

...to protect and restore the watershed's natural resources for current and future generations.