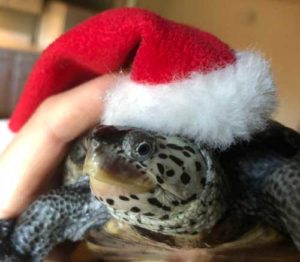 Dear Sea Turtle Santa:
All I want for Christmas is a new turtle tank and the accessories under the TRWA Christmas tree so on Christmas morning I can have a home of my own.
You see, I have been adopted by the kind folks at TRWA, but I can't move in until I have my own tank and the things that go with it. Right now I am being fostered by terrific students at Bristol Aggie until my tank is ready. It's crowded though. There are four of us, three boys and me, sharing two tanks, and the boys always chase me when we are together. I don't blame them. It was their tank first.
Sharing space with three boys is way better than my life was before that. In October 2018 I was brought to the Cape Wildlife Center and they realized I was sick. People caught and kept me illegally for several years as a pet. (Diamondback terrapins are protected in Massachusetts and cannot be trapped or kept as pets.) They didn't know how to take care of me and I wasn't eating right and had a chronic respiratory infection. It took several months to feel better again. Even though I am healthy now, I can't live with the wild turtles because I might still be able to give them my germs. I certainly don't want any others getting sick.
I am so happy to be adopted by TRWA – they really care about diamondback terrapins and are helping us come back. Find out about what they're doing here. And becoming a traveling terrapin that visits schools and events so people can learn about me would be a wish come true! I love it when kids take selfies with me. For that, I would need a traveling tank.
Other things on my wish list are:
Cleaning equipment
Food (a girl's gotta eat!)
Color placards of my life cycle and how to conserve my species.
Materials to protect wild nesting sites.
Please visit me at TRWA at Sweets Knoll State Park in Dighton when I have my new tank where I won't be chased by those pesky boys.
We are asking for $10 for the Terrapin
(or more if you're feeling generous).
Won't you please help her get the things she needs so she can be adopted? As a thank you a terrapin sticker will be mailed to you. We'd love it if you could show us on Facebook or Instagram where you put your sticker! For those who prefer to send a check please mail it to TRWA, P.O. Box 1116, Taunton, MA 02780. Note "terrapin tank" in the memo section.
| | | |
| --- | --- | --- |
| Donate $10 | Donate Any Amount | |
Happy Holidays to all of my TRWA friends and followers.