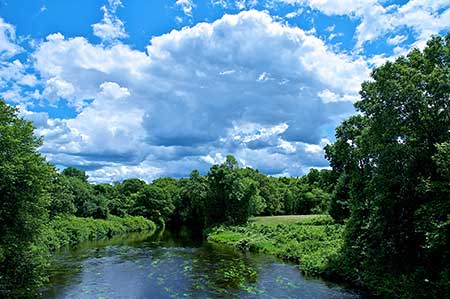 The Taunton River Watershed Alliance (TRWA) has been a voice for the Taunton River and its watershed since 1988.
We are an Alliance of concerned residents, businesses and organizations united to restore and properly manage the water and natural resources within the Watershed.
We advocate for environmental protection, sustainable development and responsible stewardship of our precious and irreplaceable water resources.
Our mission is:
To protect and restore the Watershed's natural resources for current and future generations
To build and support responsible stewardship of our fragile ecosystems, water quality, forests, farmland and wetlands
To be an integral resource for environmental education that is so crucial to the continued health and enjoyment of the Watershed's waterways, woodlands, meadows, marshes, wildlife and open spaces
To be a voice for threatened land and water resources
If you would like to participate in achieving our mission you could support us by becoming a corporate sponsor, an activity sponsor, a member or volunteer. Whether you can give time or money your help would be greatly appreciated.