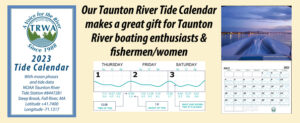 The TRWA publishes an annual calendar with the local Taunton River Tides.
The calendar, featuring wildlife and scenery within the Taunton River Watershed, is comprised of work from local photographers.
Calendars are available for $20 at TRWA's Watershed Center at Sweets Knoll State Park beginning November 4th. Please call ahead at 508-828-1101 for times when the Center will be open. A limited number of calendars will be available for a discounted price of $15 at the TRWA's Annual Meeting on November 12th at Bristol County Agricultural High School from 4PM-7PM.
You can also order calendars online with $10 of the cost going directly to the TRWA.
To view and order our TIDE calendar, follow this link: http://www.calendarlink.org/trwa/home.html.
Want to customize our TRWA calendar? Would you like it to start in, say, June, or be printed with the tide data from another NOAA tide station, or printed without any tide data? Click this link for detailed instructions on how to order a custom calendar. how_to_order_online
A list of the 2023 photographers can be found here