The TRWA publishes a calendar with the local Taunton River Tides. It features the photography of our annual photography contest winners. Copies are on sale in the Fall of every year at the TRWA offices and sponsored events and online.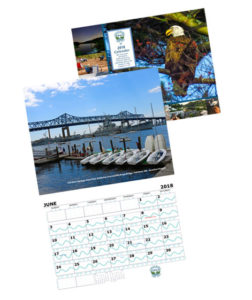 Thanks to the flexibility of print-on-demand technology, you can order one of our 2018 Tide Calendars year round and have it start in January, or July, or August, or whichever month you choose.
Calendars cost $19.99 including shipping and handling. Of that cost, $10 goes directly to the TRWA.
Want a custom calendar starting in, say, June, or with your own photographs? See this flyer for details on how to order your custom calendar today.
Want to see your photo on next year's calendar? Enter our calendar photography contest.