The Orchestra as Ecosystem
May 13, 2023 @ 1:00 pm

-

3:00 pm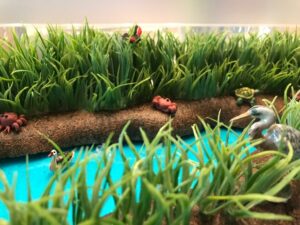 TRWA is pleased to offer a special interactive presentation for children (ages 7-10) who will discover the connectivity of living parts in a salt marsh ecosystem, as well as among musical parts in a piece of music.
The program begins with three members of the New Bedford Symphony Orchestra (NBSO) presenting a narrated 40 minute musical performance which brings the ecosystem to life. NBSO 's renowned Director of Education, Terry Wolkowicz , will then engage participants in a 20 minute interactive lesson using a salt marsh model. Children will be introduced to real life salt marsh disruptions, such as the introduction of a new road, new house or restaurant and uncover creative solutions to address each. Several other hands-on science based activities will be available for children to explore.
The NBSO has conducted this program and others on a larger scale in hundreds of classrooms throughout the SouthCoast. To learn more, visit Learning in Concert – New Bedford Symphony Orchestra (nbsymphony.org)
Event Location- Bristol County Agricultural High School, Student Commons, 2nd Floor Conference Room, 135 Center St, Dighton
Cost: Members $10, Non-members $15, Families of two or more children $15
Limited to 30 children. Registration required.
For more information or to register, email director@savethetaunton.org or call 508-828-1101.