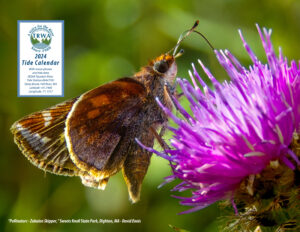 Thank you to all the photographers who entered TRWA's 2024 Tide Calendar Contest!
With so many extraordinary entries, the judging was quite difficult.
We are pleased to share the following winners:
Cover:
"Pollinators – Zabulon Skipper," Sweets Knoll State Park, Dighton, MA – David Ennis
January:
"Finding Water," Norton, MA – Alison Kidder
February:
"Carver's Pond in Winter," Bridgewater, MA – Mike McLaughlin
March:
"Great Blue Heron Handoff," Lakeville, MA – Mohamad Ojjeh
April:
"Sandhill Crane," Burrage Pond Wildlife Management Area, Halifax/Hanson, MA – Bart Devine
May:
"Banding Six Week Old Bald Eagles," Dighton, MA – David Ennis
June:
"Turtle Yoga," Burrage Pond Wildlife Management Area, Halifax/Hanson, MA – Laura FitzGerald-Kemmett
July:
"Battleship Cove," Fall River, MA – William Gibson
August:
"Teach Children to Inhale the World's Beauty," Fall River, MA – Kat Tasca
September:
"Autumn Beauty," Lakeville, MA – Jonathan Huggon
October:
"Harbor Seal," Berkley, MA – Jenn & Elyse Shallow
November:
"Looking for the Ladies," Lakeville, MA – Mohamad Ojjeh
December:
"Male Cardinal in Tree," Berkley, MA – Barbara Tomawski


Reserve your calendar today by emailing director@savethetaunton.org.
Starting November 1st, calendars will be available for $20 at TRWA's Watershed Center at Sweets Knoll State Park. Please call ahead at 508-828-1101 for times when the Center will be open. A limited number of calendars will be available for a discounted price of $15 at the TRWA's Annual Meeting on November 4th at Bristol County Agricultural High School from 4PM-7PM.
Calendars are always available print-on-demand. The TRWA is excited to use all the options of this new technology. The print-on-demand calendars can be printed from any month of the year with the tide data from the Taunton River or any other of the 3,500 NOAA tide stations. Or, if you like to write appointments onto your calendar, you can order a calendar printed without the tide data. People purchasing the calendar can even customize their calendar with their own photographs. Half the proceeds from the online $19.95 purchase price goes directly to the TRWA to support its ongoing mission protecting and restoring the Taunton River watershed, its tributaries, wetlands, floodplains, river corridors and wildlife.
To order our TIDE calendar, follow this link: http://www.calendarlink.org/trwa/home.html.
For a step by step guide on navigating the customizations of the order form, click on this link. how_to_order_online_flier
Since 1988 TRWA has been a voice for the river as an advocate for environmental protection, sustainable development and responsible stewardship of our precious natural resources.
Your purchase of our calendar helps to support our work. Thank you!