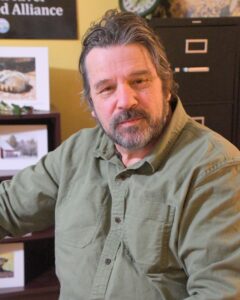 TRWA welcomes Brad Gonyer as the newest member of our Board of Directors.
A seasoned TRWA volunteer, Brad has been a water sampler in the Water Quality Monitoring program for the past twelve years. He has also volunteered at various events, and will be joining the garden committee when it resumes work this spring.
His belief in the increasing need for environmental stewardship matches TRWA's mission to protect and restore the Watershed's natural resources for current and future generations, as well as building and supporting responsible stewardship of our fragile ecosystems, water quality, forests, farmland and wetlands.
About himself he says, "I was born and raised in Massachusetts and have lived in Taunton since 1989. I am a retired Museum Preparator whose career encompassed exhibit installation and organization, collections care and management as well as installation and maintenance of outdoor sculpture. I consider environmental remediation to be among the most significant challenges we are facing. True quality in our lives has always been dependent upon the healthy natural world. Humanity has become so powerfully disruptive that it is necessary for us to assume a greater stewardship role than we have been accustomed to. This is why I became involved with the TRWA and look forward to spring planting."
Thank you for joining us!