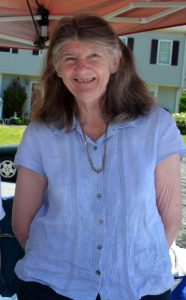 Priscilla Chapman, longtime TRWA board member and watershed advocate is TRWA's December volunteer of the month. She completed her two-year term as the president of TRWA in November with a surprise bouquet of flowers and thank you's from the board. As one of her last presidential duties she conducted TRWA's annual meeting via Zoom, a major accomplishment. Participating via Zoom was a major achievement to some of TRWA's members too. Priscilla will remain on the board so she can give more time to her first love, watershed advocacy.
Our board members have commented on Priscilla's advocacy. As each member gives examples of her work, you will get a sense of how long, determined and persistent her devotion to protecting the watershed have been.
Incoming TRWA president Joe Callahan says, "Priscilla is and remains hopefully for many years a great advocate for TRWA and the watershed. She has given so much of her time to TRWA and deserves much recognition. She is a terrific writer and is expert on MEPA* wetlands regulations. It is her forte. I want to thank her for her years of dedication and urge her to continue in her advocacy work. She is a great asset to lean on."
*MEPA is the Massachusetts Environmental Policy Act, and its regulations are complicated and crucially important in the watershed https://www.mass.gov/orgs/massachusetts-environmental-policy-act-office
Longtime board member Alex seconds Joe sentiments. He says that she was a great help and lent much of her time in helping him fight the shopping mall which was planned in Freetown several years back on an area that was a known coal ash pit near the Assonet Bay in an area that was also known diamondback terrapin habitat. This was a very emotional topic in Freetown for some time, and the shopping center eventually was not built, and that part of the diamondback terrapin habitat remained. Read more about this story
here
.
Fellow board member Craig Heffernan adds, "She's a wealth of information on issues facing the watershed. Her work on advocacy is second to none."
Steve Silva, TRWA's water quality testing program director says, "Priscilla has been a backbone volunteer for TRWA both during my six-year involvement with the organization and from what I've learned many years before that.
Using her experience from being on the Fall River Conservation Commission, she prepares thoughtful comments on development projects in the watershed.
She stepped in to be President for two years when we really needed her. She has done some big projects like the Stream Continuity Study Report which she worked on with Mass Audubon. She has done (and continues to do) so much for TRWA!
"
Carol Traverse concludes, "Priscilla's letters and comments regarding the Wetlands Protection Act are top notch. When we get a call from someone concerned with a proposed project near the river or wetlands, Priscilla always gets in touch with them or visits the site to assess the person's concerns.
I don't think people realize how much she has done for TRWA because she has gone about things so quietly."
She was also on the study committee to establish forty miles of the Taunton River as Wild and Scenic. Achievement of that status has been very important to the river's preservation.
So, thank you to Priscilla for stepping in as president when she was needed and now for continuing with the environmental advocacy that is so important and we look forward to your contributions to TRWA's continuing advocacy work.