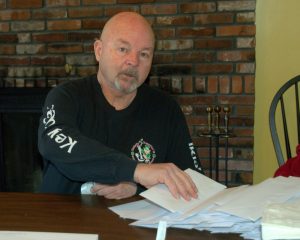 When you think about Joe, you think of the word steady.

Joe Callahan, TRWA's incoming president and past president, knows a thing or two about water.
Recreationally, he has done white water rafting, hiking, kayaking and trout fishing here and in the Grand Tetons, the Colorado River and the Grand Canyon.
Study and analysis of water became his career. He is an avid volunteer for its protection.
A co-op job at Northeastern headed him away from his anticipated career as a lawyer into environmental work at the EPA and at National Pollutant Discharge Elimination System (NPDES).
He is a volunteer who just can't say no. In addition to being TRWA's incoming president, he is a Taunton River Wild and Scenic Board member, and Southeastern Regional Planning and Economic Development District (SRPEDD) representative for Berkley and its Finance and Personnel Committees. He also serves as a member of the Joint Transportation Planning Group.
He is looking forward to a retirement although it's still a few years away, because he has "lots in his future." Right now, his busy life has left two brand new fishing poles sitting unused.
TRWA needs people like Joe more than ever to maintain and expand its core mission in environmental advocacy. If you would join with Joe and other hardworking volunteers, please volunteer here. Where it asks what your interests are, type in "I want to help give Joe time to break in those new fishing poles."
Joe joined TRWA over twenty years ago and has been a board member for most of that time. He joined to make a difference and enjoy the remarkable assets of the Taunton River at the same time. He says, "I am an environmental consultant by trade who cares deeply for the environment in which we live. We must protect and preserve this earth, the water, the air, and the wildlife or it will not be there for future generations. I feel each of us has a duty to `do a part in whatever small way we can."
Saying he is an environmental consultant is typical of Joe's style of quiet understatement about himself.
He is a senior project manager at ​Environmental Strategies & Management (ES&M). ​He has nearly 30 years of experience in the environmental industry. He is a Massachusetts Licensed Site Professional (LSP #7936), a Certified Hazardous Materials Manager (CHMM) and a Toxics Use Reduction Planner (TURP). At ES&M he is a Senior Project Manager for environmental assessment and remediation projects for major petroleum (both retail and terminal sites), industrial, and utility customers at sites throughout Massachusetts and New Hampshire. He manages several projects that involve wetlands permitting and storm-water management.
He says, "When I first joined TRWA, our offices were in a small room in an old mill building in Bridgewater. We've come a long way since then and in partnership with DCR, the Massachusetts department of Conservation and Recreation, we now have our offices in a beautiful building at Sweets Knoll State Park in Dighton." The part he isn't mentioning is that he was instrumental in establishing the partnership and procuring the building. He continues "There were dedicated people with TRWA when I first joined as there are now. They provide a strong voice for the protection and preservation of the Wild and Scenic Taunton River and its watershed."
Two other TRWA veterans have much to say in praise of him.
Steve Silva is TRWA's director of the water quality monitoring program. Volunteering for a monitoring team is an attractive opportunity for environmental advocacy as long as Covid regulations permit it in 2021. This is what he says.
"Joe is an unselfish champion for the Taunton river watershed and a great choice for November volunteer of the month. I joined TRWA as a sampling volunteer in 2014 and became a Board member in 2015 where I first had the pleasure of meeting Joe. Joe is an avid kayaker and environmentalist who is an unselfish champion for the Taunton River. He has always stepped up.
His engineering technical knowledge, common sense, and knowledge of the watershed and the challenges facing it from rapid growth to climate change have been invaluable to the efforts of each group he helps."
Jen O'Keefe, a longtime TRWA volunteer, avid kayaker, member of the terrapin team and calendar publisher may have said it best.
"Joe's not looking for a stage, he's looking for what's best for the river. And indeed, his quiet professionalism has been a mainstay of the TRWA's board for many years, keeping things going when the going gets tough.
When you sit across from Joe at a meeting, you have no clue that this quiet and reserved person absolutely loves being outside and on the river. It's something that you really only see if you happen to be on a paddling trip with him. He was instrumental in keeping things going when the TRWA made the move from Boyden to Sweets Knoll. When you think about Joe, you think of the word steady – because his work, whether it is with advocating for the river or for organizing a paddling trip or the annual meeting, while not flashy, is vital and his skills as a project planner are often all on display as he helps out with whatever project or educational opportunity the TRWA is organizing. He will be stepping up again to president this fall, and the watershed will once again benefit by having someone with his skills and heart giving direction to the TRWA's work."
~ by Sally Spooner