The Taunton River Watershed Alliance (TRWA) is pleased to announce the release of its Annual Taunton River Tide calendar. For a seventh year in a row, the TRWA has published a yearly calendar with tidal data for the Taunton River.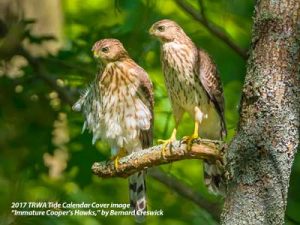 This year the calendar cover features the work of local photographer and nature enthusiast Bernard Creswick. His image, "Immature Cooper's Hawks," was shot right within his Raynham, MA backyard.
Other winning images and photographers are:
January
"January Walk Along Assawompsett," Lakeville, MA – Carol Longo
February
"Bluebird Family Keeping Warm," Berkley, MA – Barbara Tomawski
March
"Assonet River Sunset," Assonet Village, MA – Barry French
April
"Eating out on a Limb," Norfolk, MA – Sarah Keates
May
"Morning Dew," Somerset, MA – Deborah Sharples DeCambra
June
"Nippenicket Sunset," Bridgewater, MA – Bernard Creswick
July
"Is It Safe?" Mill Brook Wildlife Management Area, Freetown MA – David Ennis
August
"The Big Catch," Plymouth, MA – Sarah Keates
September
"Stairway of Red," Pierce Beach, Somerset, MA – Kat Tasca/PHOTO>kat<©
October
"Great Quittacas Pond," Middleborough MA – David Ennis
November
"Harris Street Bridge," Taunton, MA – Mark Genovese
December
"Taunton River, Sunrise Tipped Trees," Berkley, MA – Ronald Tomawski
The calendar also features the photographic work of: Karen Callan, Bruce Caswell, Tricia Gordon, Ellen Hansen, Jonathan Huggon, Terry Monacelli, Barbara Mullen, Mary L. Nicodemus, Elaine Sherman, Sally Spooner Chris Trabulsie, Mike Walsh.
Pictures are of the wild life and scenery within the Taunton River Watershed, 562 square miles in all of or part of 43 Southeastern Massachusetts cities and towns.
Calendars are available now print-on-demand through this link. The TRWA is excited to use all the options of this new technology. Calendars can be printed from any month in the year with the tide data from the Taunton River or any other of the 3,500 NOAA tide stations. People purchasing the calendar can even customize their calendar with their own photographs. Half the proceeds from the $19.99 purchase price goes directly to the TRWA to support its ongoing mission protecting and restoring the Taunton River watershed, its tributaries, wetlands, floodplains, river corridors and wildlife.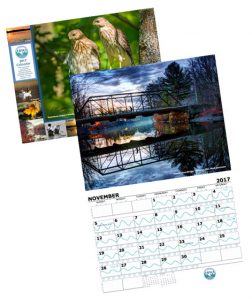 The TRWA will be publishing another calendar in 2018 and the submission period for that calendar contest is now open. Click here to jump over to the contest page and download contest submission guidelines.
For 25 years, TRWA has been a voice for the river, an advocate for environmental protection, sustainable development and responsible stewardship of our precious water resources. We are an Alliance of concerned residents, businesses, and organizations united to restore and properly manage water and related natural resources within the Taunton River Watershed.